eProphet Franchise Payroll
Abcom ERP & Restaurant Managment Solutions
Franchise Software Solutions
The Franchise Payroll software system accepts comprehensive electronic input of employee clockings, rostered times and employee master file update data from a store eProphet/eBOS system. This data, along with a minimum of sundry input by the payroll administrator, is processed by a powerful payment calculation engine to produce fast and accurate employee payments.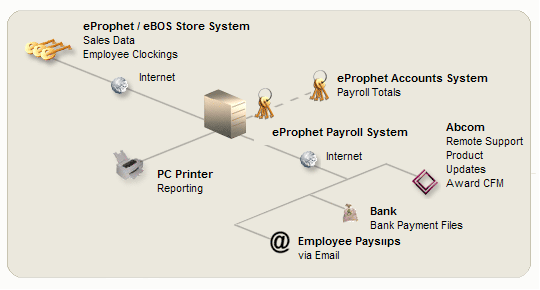 Upon finalisation of each payroll run important records for the employer, employees, the ATO and other relevant parties such as superannuation funds are automatically updated by the system. Transfer of employee payment totals to your banking institution is quick and easy and employees can receive their payslips via email automatically if desired.
The system can easily produce a comprehensive set of reports at the touch of a button, allowing you to analyse every aspect of your payroll operation and maximise the profitability of your business.
Developed and designed using advanced Microsoft® .NET™ framework technology, eProphet Franchise Payroll represents a long term quality software investment for your business in a field where robust and proven software is a prerequisite.
Our franchise payroll system is single touch payroll compliant according to the stringent Australian Taxation Office requirements. Abcom's eProphet Payroll software was the first payroll software system in Australia to become compliant.
Where to next? > Franchise Franchise Payroll Key Features