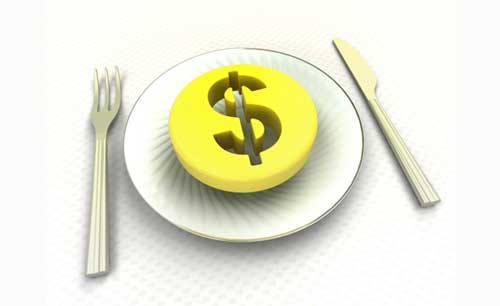 Controlling your food costs starts with good inventory organisation and control. It has been found that a reduction in inventory levels and better organisation of food storage areas can have a significant reduction in food costs. There is a simple management saying: When you have excess and disorganisation you will have waste.
THE BEST GUESS INVENTORY SYSTEM:
This system works best when your kitchen manager or Chef has been able persuade you that ordering is an extremely complex process and that you the owner should never ever get involved. Only someone with their many years of experience can understand the hidden secrets of and intricacies of ordering. The system can often works like this:
In the middle of the lunch rush the wait staff run out of croutons. (A work station stocking problem?)




The employee rushes into the store room but cannot see the croutons because two boxes are hidden under other stock items. (A poor organisation problem?)




The employee then rushes to the chef, who is extremely busy, and tells him we are out of croutons.




Kitchen Staff were far too busy to leave and check the storeroom. That afternoon the first salesperson walked in the door first will get an order for croutons. (Forget price, we need them now!) Because we ran out the chef doubles the order to four boxes perhaps even higher?




Now that we have far too many boxes of croutons that will sit in the storeroom for who knows how long. (Your money is sitting on a shelf and not in your bank account)




It is just a matter of time until someone stacks a couple of heavy cases of A10 beetroot cans on top of the those fragile crouton boxes.




Before long and before you can use up all those croutons, you will have one or more boxes of crushed croutons bits and crumbs, bursting at the seams.
This is a great example: Inadequate work station stocking before a rush period and poor food storage organisation that caused a massive panic in the middle of the lunch session. This resulted in panic ordering of excess inventory, without checking the price, which ultimately resulted in overstocking and potential spoilage.
This can often be standard operating procedure for too many restaurants.